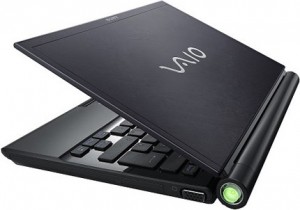 My laptop, as you may have guessed, is a Sony VAIO TZ series (specifically VGN-TZ31VN) Not a cheap piece of equipment, I got it on the same month as it was released. There are a lot of people that absolutely hate VAIO's, myself, I love it, it has all the components you could want for what I do, a wireless card that can be put into monitor mode, a small form factor, a long lasting battery (which yes was an optional extra, but an extra not many other laptops have) also for sentimental reasons – it's the first laptop I have ever owned.
Recently the fan in the laptop was making a horrible grinding noise, it sounded like it was on it's way out.. my beloved laptop dying! – not something I would allow to happen without putting up a fight.
After a lot of googling I discovered a place that would supply a replacement for £35 I decided I might as well see what I can do, if I get something wrong it wont really matter since I could buy a replacement.
So here is how I repaired my fan for next to nothing. Firstly – the things you will need: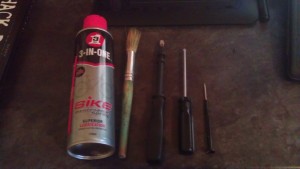 From left to right:
– Lubricant 3-in-one will work fine, what you really want is a silicone based lube. GT85 for example. WD40 is a big NO NO – it will corrode the plastic and is not suitable for this.
– Paintbrush, for wiping clean dust
– Flathead screwdriver
– Phillips screwdriver
– jewelers screwdriver (some screws require this)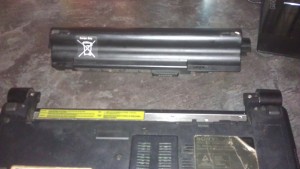 It may seem obvious, but you want to remove the battery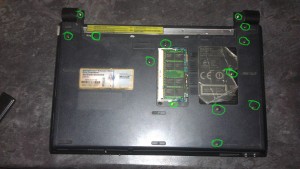 Remove a whole load of screws as circled here in green. This includes the cover for the RAM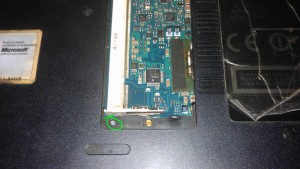 Remove the RAM and the screw near it. Now it's time for the "secret" screws
The first "secret" screw is on the top left hinge under a square rubber foot type pad.
The next three are also located under hard rubber pads that are flush against the case.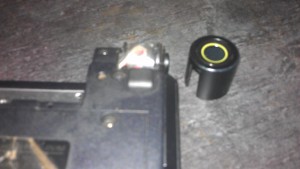 This is where the flathead screwdriver comes in handy. Use it to gently pry the right hand (power cable side) hinge cover off, it is just secured with some plastic clips.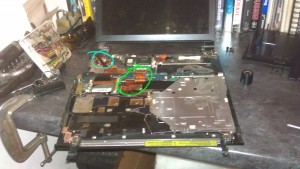 It should be fairly straight forward to open the keyboard and trackpad from the base now, The keyboard/trackpad will be secured to the motherboard (as circled in green) the easiest way to remove this is just to pull the motherboard side connector, which just pops on and off. Circled in light blue is where the fan is located.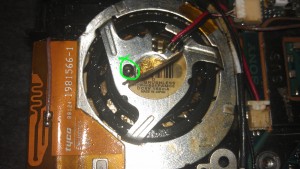 Underneath the sticker is a small hole which gives you access to the bearings and is where you should put the oil. Clean the fan out with the paintbrush and make sure everything is working, you should be able to test it by spinning it with your finger.
Once this is all done, you can put your laptop back together, following the previous steps in reverse. If you have cleaned it and oiled it and it is still not working properly then you will need to replace the fan (which means dismantling the laptop entirely, since the fan is connected underneath the motherboard)
Obviously I have done this to my laptop and it has been working perfectly and silently since. I imagine this should last quite a while longer.
After doing some research on the fan it seems that is was shipped with oil that evaporates (not silicone based) I can only presume this is so you have to send your laptop back for repair or a replacement fan.
I hope this article has helped, and as always, likes, shares & comments are always appreciated.